Moderators: Scott Sebring, Ben Bentley
Forum rules
Costume making, prop building and other '66 Bat-related arts and crafts. Great place for info and helpful tips. Proudly display your latest creation. Please keep it '66 Batman related otherwise it will be moved to OFF-TOPIC.

(NO SOLICITATION). If you're looking to BUY or SELL something, go to the MERCHANDISE SECTION. Even if you're trying to assemble a costume by buying or acquiring different crafted items rather than constructing or customizing them yourself, then it belongs in the MERCHANDISE SECTION. Don't even ask somebody if they're planning on selling something within this section.

Be sure to read the Board Rules as well before posting for the first time.

Thank you!
Posts: 0
Joined: Sat Sep 08, 2012 7:32 am
Everybody has been great helping me answer questions about the gadgets in Batmans utility belt,there's a great wealth of knowledge on this site about these questions.Sometimes I wish some of the prop makers for the show were still alive so that I(as well as everyone else on the message board)could pick their brains for the answers.This time I need questions answered about the Bat Hook from the episode "Hi Diddle Riddle".I found someone who will make the hook for me but I'm having a darn problem finding the suction cup for the Bat Hook.First,I'm not sure by looking at pictures that I have how big the suction cup is-I'm thinking 3" or 4"?What color is the actual cup a silver or a dark gray?Anybody have any ideas where to find the right size and color suction cup on the internet?I've been looking for almost 2 weeks now with absolutely no luck.I'm attaching a picture of the hook from the episode.I hope someone can help me and thanks in advance to whoever can help.
I saw the original post on this and hoped others with more know-how would chime in. I have no experience making costumes or props, but it occurred to me that you could estimate the size of the hook from the screenshot below. If you know the height of the utility belt cylinders (as I'm sure others on the board do), you can use it to approximate the height and width of the bat-hook compartment, which appear to be just about the same as the length of the hook and the diameter of the suction cup, respectively.


From the photos you posted earlier, I think the suction cup was silver, and my best guess would be that it was spray-painted black rubber. Rubber suction cups smaller than plumber's helpers are apparently pretty hard to come by these days; all I could find for sale online are silicone suction cups. As to how the hook attached to the cup, I'd guess a ball-and-socket type attachment, similar to "pop-it" pearls, or the old-school suction-cup darts that shot from toy guns, back before product-safety types spoiled the fun.

Good luck.
Perhaps they used something like this Atlantic India Rubber Co. Dent Puller/ Suction Cup. It's currently on eBay.
Atlantic Indian Rubber Dent / Suction Cup Puller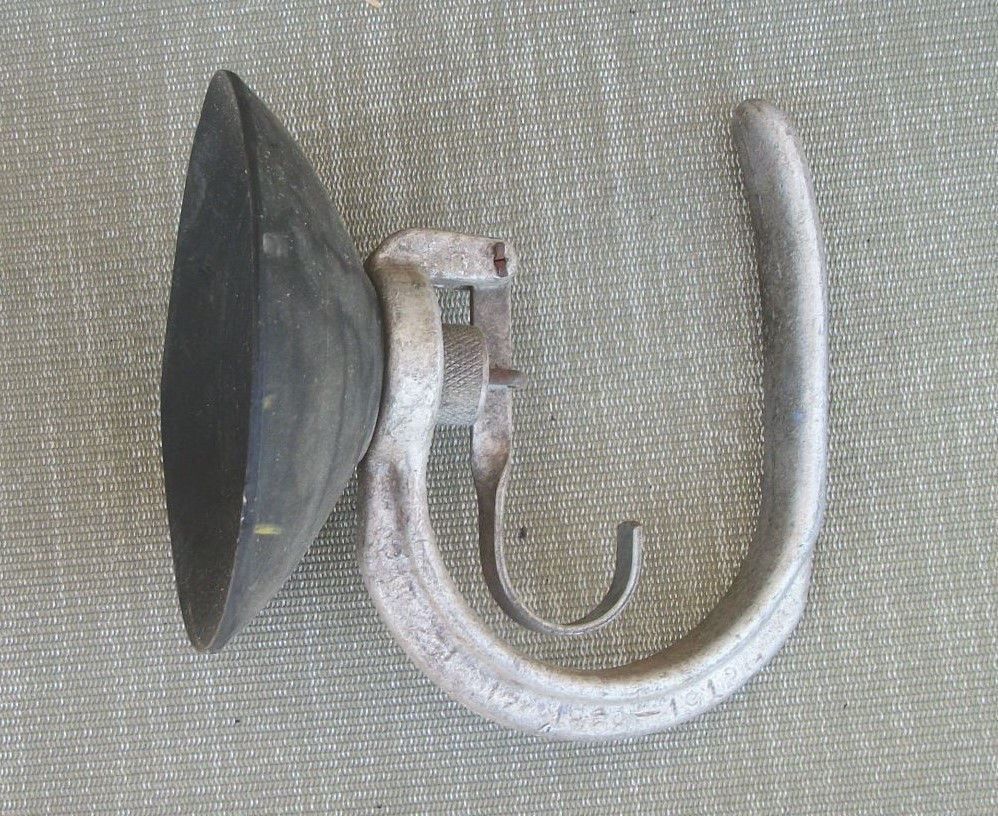 "Oh soon we'll be out amid the cold world's strife. Soon we'll be sliding down the razor blade of life." - Tom Lehrer